It was postponed for the entire schedule, but we decided to sell the long-sleeved T-shirts online to commemorate the holding of the . We will start accepting reservations from 18:00 today and will ship sequentially from June 10.
The T-shirt this time is also made entirely from the body. We haven't been able to announce the transfer performance schedule and refund yet, and I'm sorry to bother you, but I hope you will look forward to the next transfer performance. I'm happy.
[Satoko Shibata's HITORIBOCCHI '20 TOUR Long-sleeved T-shirt] 4,500 yen
A long-sleeved T-shirt created to commemorate the holding of .
This time as well, the body is particular, the front is plain and simple, and the back is a large print of Shibata's photograph.
The venue name of each tour performance is printed on the left sleeve.
(Photo: Yusuke Nishimitsu / Design: Rinshiro Fujiki)
Front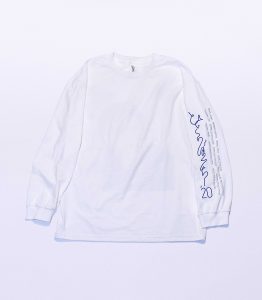 Back

Body: ALSTYLE ASTY-T1304 6oz Long-sleeved T-shirt
Body color: White
S size: Length 67 cm, Width 45 cm, Sleeve length 56 cm, Shoulder width 45 cm
M size: Length 72 cm, Width 52 cm, Sleeve length 61 cm, Shoulder width 51 cm
L size: Length 79 cm, Width 57 cm, Sleeve length 62 cm, Shoulder width 57 cm
XL size: Length 81 cm, Width 61 cm, Sleeve length 62 cm, Shoulder width 61 cm
Reservation acceptance starts from 18:00 on Friday, May 22, Scheduled to be shipped from Wednesday, June 10
* Due to the influence of the COVID-19, it may take some time to ship. Please note.
(Model wearing photo: Yusuke Nishimitsu / Model: Satoko Shibata (L size wearing))