"CROSSING CARNIVAL'20" , which was scheduled to be held at 7 live venues in Shibuya on Saturday, May 16, was canceled due to the ongoing spread of COVID-19 infections. It has been decided to hold it after going online.
Satoko Shibata will also participate in the live streaming of the performance. Please look forward to it!
http://crossingcarnival.com
"CROSSING CARNIVAL'20 -online edition-" Event summary
Date and time: Saturday, May 16 13:00-21:00 (planned)
 Satoko Shibata will deliver live video footage of the new filming from 18:30.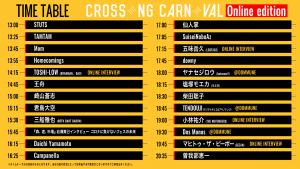 Venue: Online streaming delivery
 URL: https://cinranet.zaiko.io/
Online version ticket: 1,000 yen https://cinranet.zaiko.io/e/crossingcarnival
 * Furthermore, it is possible to throw a coin (500 yen / 1,000 yen) during distribution.
* Details of the timetable will be announced at a later date.
Sponsor: CINRA.NET
Planning and production: CINRA.NET, SMASH
Cooperation: Eggs
Infomation:http://crossingcarnival.com