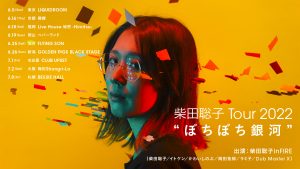 Satoko Shibata Tour 2022 [Bochi Bochi Galaxy] Tokyo
05
Jun
2022
Higashi Shibuya-ku, Tokyo
Sold Out !
Details
Time
: OPEN 17:00 / START 18:00
Venue
: LIQUIDROOM
Address
: 3-16-6 Higashi Shibuya-ku Tokyo JAPAN
State
: Tokyo
Zip
: 150-0011
Contact Email
:
sevens@sevens-softhouse.com
Satoko Shibata's new album "Bochi Bochi Galaxy" release tour. Starting with LIQUIDROOM in Tokyo on June 5, 2022, which is the 10th anniversary day of her debut album "Satoko Shibata Jima", Satoko Shibata in FIRE will travel to 9 locations nationwide.
Official advance reservations are also underway. Please take advantage of it !
---
Satoko Shibata Tour 2022 [Bochi Bochi Galaxy] Tokyo
June 5, 2022 (Sunday)
Venue: Tokyo LIQUIDROOM
OPEN 17:00 / START 18:00
[Cast]
Satoko Shibata in FIRE
are
Satoko Shibata
for Vocal, Guitar and more
ITOKEN
for Drums
Shinobu Kawai
for Bass
Takuro Okada
for Guitar
Ramiko
for Chorus & Percussions
Dub Master X
for F.O.H [Ticket]
Adv.4,500yen (Tax incl., 1drink order)
General release: April 16, 2022 (Saturday)
Released on PIA, LAWSON TICKET, e+
e+: https://eplus.jp/shibatasatoko0605/
LAWAON TICKET: https://l-tike.com/shibatasatoko2022/
PIA: https://w.pia.jp/t/shibatasatoko-t/