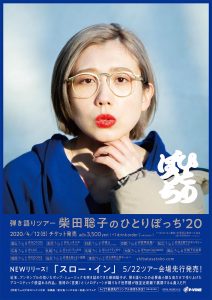 Satoko Shibata's HITORIBOCCHI '20 at KYOTO
29
May
2020
Koyamaminamiono-cho, Kita-ku, Kyoto
Postponed !
Details
Time
: OPEN 18:00 / START 18:30
Venue
: SHIMEI KAIKAN
Address
: 1, Koyamaminamiono-cho, Kita-ku, Kyoto-shi, Kyoto
State
: Kyoto
Zip
: 603-8163
Phone
: 06-6357-3666
Contact Website
:
http://solecafe.jp/1999/01/post-250.html
An emergency declaration was issued on April 7 for COVID-19. The Venue is already in the news, but as production companies are shrinking and responding to telework requests, the schedule for releases and tours needs to be revised. Therefore we will change as follows.
It is undeniable that further changes may be required depending on the situation. If additional changes are required, we will inform and report again. We apologize for any inconvenience, but we ask for your understanding.
---
Solo Tour "Satoko Shibata's HITORIBOCCHI '20" Some performances postponed
We will postpone the eight gigs scheduled for May. (Toyama, Kanazawa, Nagoya, Kyoto, Matsue, Hiroshima and Sapporo.) We are currently coordinating with the parties concerned, including details of the transfer gig and how to refund the ticket, so we are unable to provide details now. I am truly sorry. It will be announced again at a later date.
Regarding gigs from June 11 onwards, currently, we are preparing to hold it as scheduled, including ticket release on April 12, we will continue to monitor announcements from the government and related organizations, etc., and will consider the event and provide further information.
Postponed gigs
May 22 @ HOTORI, Toyama
May 23 @ MOKKIRIYA, Kanazawa
May 24 @ TOKUZO, Nagoya
May 29 @ SHIMEI KAIKAN, Kyoto
May 30 @ GALLERY MATSUE SEIKOIN-SHITA, Matsue
May 31 @ LOG, Hiroshima
June 06 @ RESTAURANT NOYA, Sapporo
June 07 @ RESTAURANT NOYA, Sapporo
---
こんにちは。柴田です。
今日、5月から始まる予定だった弾き語りツアー「柴田聡子のひとりぼっち'20」の一部公演の延期とEP「スロー・イン」のリリース関連の変更についてお知らせしました。
自分もすごく楽しみにしていて、エンジン暖めていたのでとても残念ですが、ありがたいことに、色々そのまま延期という方向で調整をして頂いています。
延期になったものも含め全公演について先行ご予約して下さった皆さま、本当にありがとうございます。すごく励みになっています。振替の日程やチケットについてなど、準備が整い次第ご案内させて下さい。もう少しお待ちいただけるとうれしいです。
残りのツアー日程やリリースの流れについてはまだなんとも言えない状態ですが、今のところ予定通りに動きつつ、ご協力頂いている方々とよく相談しながら、ひとつひとつ判断をしていきたいと自分は思っています。
最後に、ここのところずっとこの繰り返しですが、皆さまがそれぞれの方法で心と体の健康を保って下さることをお願いします。自分も気をつけて過ごします。どうぞよろしくお願いいたします。
Satoko Shibata