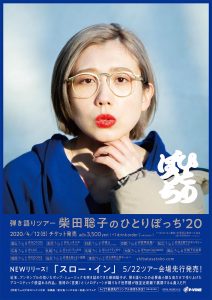 Satoko Shibata's HITORIBOCCHI '20 at SAPPORO DAY:2 [Transfer]
24
Apr
2022
Minami, Chuo-ku, Hokkaido
Sold Out !
Details
Time
: OPEN 12:00 / START 12:30
Venue
: musica hall cafe
Address
: 6-10-3-3F, 3jo-Nishi, Minami, Chuo-ku, Sapporo-shi, Hokkaido
State
: Hokkaido
Zip
: 060-0063
Contact Email
:
sevens@sevens-softhouse.com
We would like to inform you about the transfer performance of the Sapporo musica hall cafe performance of the tour "Satoko Shibata's HITORIBOCCHI '20" scheduled to be held on November 15, 2020.
In addition, we will refund to customers who have kept their tickets and unfortunately cannot come to the venue. Please note that the refund period is shorter. Please check the following for details of the transfer performance and refund method.
---
Transfer performance overview
April 24, 2022 (Sunday)
Venue: Sapporo musica hall café
OPEN 12:00 / START 12:30
_Tickets for the Sapporo musica hall café performance on Saturday, November 15, 2020 (*Former performance June 7, 2020 Sapporo Restaurant Noya) are valid.
[Ticket price] All unreserved seats 3,500 yen (tax included, drinks not included) [Ticket resale] March 26, 2022 (Saturday) 10:00~
e plus 
http://eplus.jp
---
[About ticket refund]
Details regarding refunds will vary depending on the performance / play guide you have purchased, so please check the website below.
Refund period: Mar.19 (Sat.) 10:00 – Mar.21 (Mon.) 23:59
■Customers who purchased with a Lawson Ticket
 * Including those who purchased in advance of the official website.
Please check the refund method details from the address below.
http://l-tike.com/oc/lt/haraimodoshi/ 
Information: Lawson Ticket https://faq.l-tike.com/
■Customers who purchased at e+
 The refund method depends on the ticket receiving method and payment method.
 Please check the refund method chart below for details on refund methods.
<Refund method confirmation chart>
Please check your situation while answering the questions. You can see the appropriate refund method.
http://eplus.jp/refund2/
Information: e+ Customer Center http://support.eplus.jp/
 * Please proceed to "Frequently Asked Questions".
---
<Information about the performance>
SEVEN'S TICKET sevens@sevens-softhouse.com