6th album "Bochi Bochi Galaxy"
New album "Bochi Bochi Galaxy" 2022.05.25 release.
The early reservation privilege is the video work "柴田聡子の四万十周遊記" produced by Satoko Shibata.
The sixth album "Bochi Bochi Galaxy" will be released on May 25th, 10 years after the release of the debut album "Satoko Shibata Jima". Itoken, Shinobu Kawai, Takuro Okada, Kan Sano, Yu Taniguchi, Anzu Suhara, and Hiroshi Suzuki will participate in the performance. Yoichi Miyazaki is in charge of recording and mixing, and Moe Kazama is in charge of mastering. The artwork was formed by the artist "YOF".
Satoko Shibata "Bochi Bochi Galaxy"
DDCB-12118 | 2022.05.25 Release | 3,000Yen+Tax | Released by AWDR/LR2
Purchase: https://ssm.lnk.to/BochiBochiGalaxy
01. It's Not So Bad
02. Understood
03. MSG
04. I'm a terrible driver
05. Silent Holy Madness Allnight
06. Tropical Carpet
07. Jacket
08. Just Keep Quiet
09. Bochi Bochi Galaxy
10. 24sec for you
11. n,d,n,n,n
All songs written by Satoko Shibata
Musician
Satoko Shibata: Vocal, Chorus, A.Guitar, E.Guitar, Wurlitzer, Hand Clap, Percussions & Programming
ITOKEN: Drums, Hand Clap & Percussions
Shinobu Kawai: Bass & Hand Clap
Takuro Okada: E.Guitar, Hand Clap & Programming
Additional Musician
Kan Sano: Keyboards (M2)
Anzu Suhara: Violin & Viola (M3)
Yu Taniguchi: Keyboards (M4)
Hiroshi Suzuki: Baritone Saxophone, Tenor Saxophone & Flute (M6)
Staff
Recording & Mixing Engineer: Yoichi Miyazaki
Recorded at IDEAL MUSIC FABRIK
Mixed at Studio mya
Mastering Engineer: Moe Kazama (studio Chatri)
Artwork & Design: YOF
Glasses Produce: sutekimeganemichio
Assistant: Yukako Kaiwa
---
Comment from Satoko Shibata
エベレストの山頂から叫んでお知らせしたい。みんなで最高のアルバムを作ったので是非聴いて下さい!2021年8月くらいにふと「あ〜、もう、ぼちぼち銀河だわ〜」という自分の言葉にはっとして、「ぼちぼち銀河って何?」と考えながら、そこを中心にして徐々に出来上がっていったアルバムです。この度も素晴らしい演奏・アイデア・録音・ミックス・マスタリング・サポートを頂いたことは最高の幸福です。もう一度大きな声で叫びたい、是非聴いてください!
---
Early purchaser benefits
Customers who booked "Bochi Bochi Galaxy" at the target stores during the target period will receive "柴田聡子の四万十周遊記 [DVD]".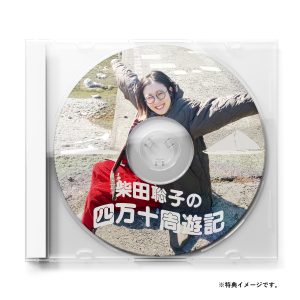 Shipping:
Title: Bochi Bochi Galaxy
Release Date: May 25, 2022
Cat.No.: DDCB-12118
Price: ¥3,300 (tax incl.)
Cat.Form: CD
Early purchaser benefits:
柴田聡子の四万十周遊記 [DVD]
Target Period:
March 17, 2022 (Wednesday) to April 17, 2022 (Sunday) Until each store closes
Target Stores
TOWER RECORDS / HMV / diskunion / RAKUTEN BOOKS / COCONUTS DISK / JET SET
Please contact each store / EC shop for details.
Purchase: https://ssm.lnk.to/BochiBochiGalaxy
Benefits:
In December 2021, Relaxed in close contact with live performances and travel at Nishitosa, where the Shimanto River flows. We plan to record about 60 minutes.
Precautions:
* The reservation end time on April 17, 2022 (Sunday) will be the closing time of each store, and will be until 23:59 on the same day for each EC shop.
* Benefits will be given to you when you receive the item.
* Please note that those who purchased products in a cart without early reservation benefits are not eligible.