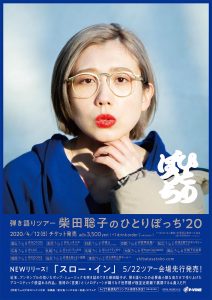 Satoko Shibata's HITORIBOCCHI '20 at NIIGATA
28
Nov
2020
Higashiboridori, Chuo-ku, Niigata
Sold Out !
Details
Time : OPEN 18:00 / START 18:30
Venue : GIOIA MIA
Address : 1016-1-1F, Higashiboridori, Chuo-ku, Niigata-shi, Niigata
State : Niigata
Zip : 951-8065
Phone : 025-226-8823

Satoko Shibata's HITORIBOCCHI '20 at NIIGATA

Nov.28.2020 (Sat.) Niigata: GIOIA MIA
Guest performance: RYUTist

OPEN 18:00 / START 18:30
ADV. ¥3,500- / DOOR ¥4,000- (+1drink order) All unreserved seats
*Admission in numerical order (randomly numbered when tickets are sold by lottery)
---
Ticket general release date: October 10th (Sat) 10:00-
▼Livepocket
https://t.livepocket.jp/
---
Request for cooperation in preventing infection with the COVID-19
・ Admission is in order of reference number.
・ On the day of the event, we will line up from 15 minutes before the venue.
・ Please refrain from waiting from an early time.
・ Participants must wear a mask. (Customers without masks will not be admitted)
・ Please cooperate with the temperature measurement at the time of admission. We will refuse admission to those who are above 37.5 ° C or who are not in good physical condition.
・ During the performance, only applause is possible, and cheering aloud is prohibited.
---
<Information> Ryuto Artist Farm, Inc. +81-25-226-8823